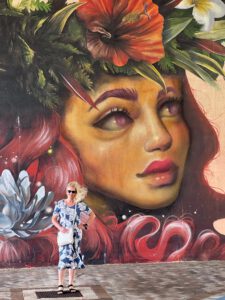 I promised you a conference recap, and I always live up to my promises. Miami, the site of ATA64, this year's annual conference hosted by the American Translators Association, is bursting with beautiful street art and museums!
Back to business: I started the conference early, with one of the 3.5-hour advanced skills sessions (AST) offered. I opted for "Building Successful Client Relationships", presented by Michael Schubert, CT, an excellent presenter I first met at ATA63 in Los Angeles. His AST session focuses on how independent translators and translation agencies can build healthy, realistic, and mutually rewarding client relationships. The session offers great insights and is highly recommendable.
Next, I attended a panel discussion with the leadership of some of the major associations and organizations for translation and interpreting professionals.
Expertly hosted by Corinne McKay, the panel included
I also attended a session presented by former ATA president Corinne McKay about finding ways for freelancers to earn six figures while staying sane and enjoying their work. Corinne laid out a perfect plan, starting with knowing your numbers, altering your mindset and implementing a practical plan for increasing work volume, rates, or both. The session was very well received.
A session presented by Grite Storm-Delacroix focused on staying fired up for the long haul. Reinventing a career over the years requires strategy, flexibility and creativity. In this session, the speaker discussed the various stages of a linguist's career.
This wraps up 2 of the 3 days I spent at ATA64. There is more to come!
Last but not least, I met wonderful colleagues, such as Caitilin Walsh, CT Christina Furholm Kjaergaard Victoria Karataeva Claudia Kellersch just to name a few.
Stay tune for further conference wrap-ups :)