Susanne Henke | Translations is a quality-driven boutique translation office specializing in medicine, medical and corporate law, and human resources. Founded near Washington, D.C. in 1995, it is now serving healthcare organizations, law firms, international corporations and private individuals all over the world from premises in Augsburg / Greater Munich, Germany.
Susanne Henke is ATA-certified (English into German) and publicly appointed and sworn in by German courts for English, French and German translations. As such, Susanne Henke is authorized to issue notarized translations.
---
About the Owner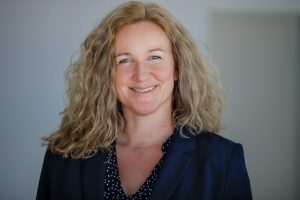 28 years of international experience in medical and legal translation
Skilled editor with a proven track record
6 million translated words and 5,000 successfully completed projects
Languages: German (native tongue), English (former permanent U.S. resident) and French
Ongoing training and in-depth industry knowledge are indispensable building blocks for top-notch translations, turning my passion for lifelong learning into a real game changer for my business partners.
---
Qualifications
8+ years of translation experience in the U.S.
Translation and interpretation studies in Munich (Germany): Degree: State Certified Translator
Languages: French, English | Specialization: Business & Law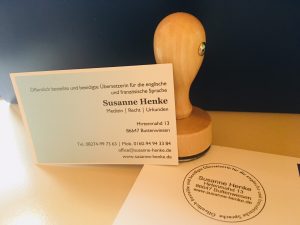 ATA-Certified (English into German)
The Certified Translator (CT) credential of the American Translators Association is the world's most widely recognized certification for translators. It involves sitting for a difficult exam involving the translation of documents typically encountered by professional translators. The exam is graded by two established and certified translators, both of whom must agree, and has a pass rate below 20%. The certification also requires a significant amount of continuing education in order to be maintained. You can verify my current certification status at www.atanet.org/verify, cert. no. 429418.
---
Work History
Freelance technical translator since 1995
In-house position as a project coordinator with inlingua Maryland from 1994-1995
Linguistic consultant in a high-profile patent litigation case, Rothwell, Figg, Ernst & Manbeck, P.C., Washington, DC (1998-1999)
---
Areas of Expertise
Medicine & Life Sciences: Medical Devices | Cardiology | Orthopedics & Trauma Surgery | Biomedical Engineering | Medical Information Sciences | Environmental Health Sciences | Pharmaceutics | Sleep Medicine
Law: Translations for courts | Documents and certificates (notarized upon request)
Talent Development | Human Resources | E-Learning

Please click here for an in-depth view of my areas of expertise and the text types involved.
---
Publications
ecomed Medizin, ecomed-Storck GmbH · 3 Nov 2022
---
Continuing Education
Countless advanced training courses and practical experience in the following fields: medicine, medial reports, oncology, immunology, cardiology, medical devices, pharmaceutics, life sciences, virology, DEI (Diversity, Equity and Inclusion), company tours, conferences and workshops on both a national and international scale.
Please click here for an in-depth view of my continuing education activities and conference visits.
---
Professional Affiliations
American Translators Association (ATA), Alexandria, Virginia (USA):

The American Translators Association is the largest professional association of translators and interpreters in the United States and has more than 10,000 members in 100 countries throughout the world

.

The largest German translators association, Bundesverband der Dolmetscher und Übersetzer e.V (BDÜ):

This renowned professional association has very stringent requirements for membership. It represents translators and interpreters working in Germany and abroad. With 7500 members, it is the largest organization of its type in the German-speaking world.
Social and Career Networks