Anniversary celebration
We celebrated our company's 25th anniversary on 31 August 2020. In keeping with the occasion, our celebrations included a brief look back on the trajectory taken by our translation office over the last two and a half decades.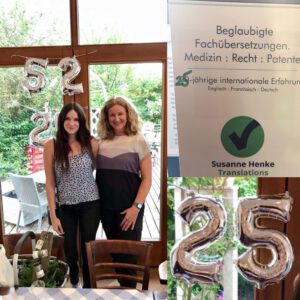 An experienced team
Company history
Since the founding of the company on the American East Coast in 1995, we have undergone changes, both large and small. Whether that be relocating from the USA to Germany, where our translation office has been located for several years, expanding our specialist areas through targeted training, or actively shaping technological transformations taking place in our industry.
Technology
We have experienced many a technological revolution: From simple text processing software, which was the working tool of choice in the 1990's, we quickly made the leap to computer-aided translation (CAT tools). Neural machine translation (NMT) has been gaining ground for a few years now. We also use this development in a proactive way in order to optimise our methods of working, while never losing sight of our customers' well-being. After all, the most innovative methods of working guarantee our customers high-quality translations at fair prices.
Specialist areas
While mainly prioritising high-quality legal translations (including for the US Department of Justice) during the early years, the focus gradually shifted towards medicine and medical technology. We then added the interesting field of human resources development (leadership development and e-learning). For a few years now, we have been supplementing our offer with certified translations of documents.
Future
We look optimistically to the future and hope that our long-standing customers will continue to be loyal to us. For you, our customers, we will keep our finger on the pulse when it comes to technology and subject matter, and will give it our all!